INTERVIEW: Jessie Ware Shares Track By Track Breakdown Of 'Glasshouse'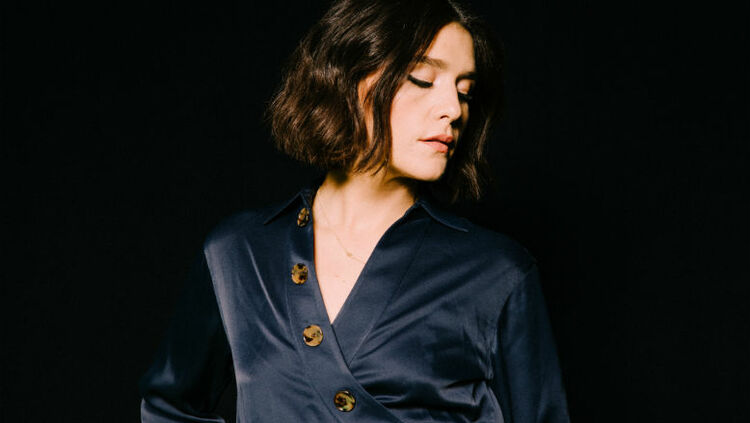 When it came time for Jessie Ware to record the follow-up to 2014's Tough Love, the British singer/songwriter had her apprehensions, especially with the desire to start a family with husband Sam Burrows. Would she be able to balance motherhood and her career? How would she push her muse the way she has previously in her almost decade-long career? Would Jessie Ware still be as good as the Jessie Ware her following grew to know and love?
Well, the answers, in short, to all of the above is yes, but it didn't exactly pan out the way the 33-year-old chart-topper had planned.
"I was two albums in and I feel like I haven't fulfilled everything that I want in my career. For me, it was this hunger to keep on going. Why take loads of time out?" she told iHeartRadio of her first attempt at recording Glasshouse, which is out now. "You don't know whether an album's gonna be well received or not. If it is well received, then you could be touring for two years, which is incredible, but then that delays the starting of families. I realized I was just really impatient and I was trying to rush everything"
Even though she started to speed up the recording process before the birth of her first child, it simply didn't work. Fortunately, the sessions did lead to solid collaborations with Julia Michaels and Ed Sheeran. "I was writing songs that didn't make total sense and then, she became my muse. I wrote most of the records since she's been alive," she continued. Take a look below to see Jessie break down the meanings behind all of her Glasshouse tracks in our latest installment of Track by Track.
Track 1. "Midnight"
"I felt it was good to start the album with. I feel like it's got a kind of enchanting aspect to the intro, and I start with this softness that maybe is reminiscent of Tough Love -- my second record. It just goes slap bang into that chorus. There's a new confidence. There's a new way of singing and I'm really proud of the vocal performance on that, but it was due to the people that I worked with on it. I would never have had the confidence to write that chorus myself. Thank goodness for Jordan and Kia, Victoria and Bastien, who I worked with it on. It just felt like it had this energy and this optimism and a confidence that I felt was a really great way to start the album. I felt like it had a really great impact, so that's why we made it the first single."
Track 2. "Thinking About You"
"'Thinking About You' is a song that I wrote with Kid Harpoon, who I wrote, "Wildest Moments" with on the first record. We wrote it in London and I'm very obsessed with making waltz-y songs. I do a lot of them. I was listening to lots of Cocteau Twins, and I wanted this guitar that had a bit of grunge thing to it, and you put loads of chorus pedal on it for effect. But I was in this place where I was going to work on my music and leaving my daughter. Even though it was for a really small amount of time, there was this guilt and it didn't sit well with me. I was like 'I'm going away from her, and writing songs.' I felt it was this real battle with me about feeling like this job is quite indulgent and maybe I should just be a mum. This song is about having this tension between loving what I do, but also loving being mother, and being a bit torn. She really likes the song. My husband played it to her a lot of times. We've played it to her a few times and she's a big dancer, but she really likes it. I'm really proud of this one. I feel really lucky that I have this song that I can give her when she's older, and be like 'That was about you.'"
Track 3. "Stay Awake, Wait For Me"
"I wrote this with some incredible new friends, Stint, who's a producer and writer, and Shun, and Danny Parker. We met in Los Angeles, but then we got along so well that I brought them over to London, and we did this week-long session, where I was down the road from my house in East London, and so it was perfect. We had this studio really nearby. I was near my daughter, and we just had the best week. This was actually the second to last song we wrote for the record, and I think it's another waltz. . . .I was listening to loads of Childish Gambino at the time and I wanted to really play with vocals, but having this really intimate quality."
Track 4. "Your Domino"
"I also wrote with Stint, Shun, and Danny. That was the last track we wrote for the record. I think I knew a lot of the songs that were gonna make the record, and I just felt like I needed an injection of energy and upbeatness. I'm not very good at doing upbeat, but I've thought about my crowd and I see how well my song 'If You're Never Gonna Move' goes down when I play it. I think people want that energy when they're at a festival, or when they're at a show. That was for the fans [and] for them to keep upbeat. It was really fun, and I was listening to lots of Little Dragon. It's one that's not supposed to be taken too seriously, but it's a bit of an escape."
Track 5. "Alone"
"'Alone' is a song I wrote with Kid Harpoon and Sarah Aarons. Sarah Aarons is an incredible new writer. I'm really lucky I got to work with a lot of women [and] a few more writers on this record, which actually has never happened for me before. I feel like there's so many incredible female writers coming up. Sarah Aarons wrote 'Stay,' the Zedd and Alessia Cara song. She's like this really confident Australian girl, who's much younger than me, and I'm a bit scared of her.
Kid Harpoon was desperate for us to work together. He thought we could make a great song. His wife, Jenny, was about to go into labor. She was really really pregnant. We were at his house and he begged her. He said, "Jenny, please, whatever you do, please just don't have the baby until we've done this session." She had the baby the next day in the middle of the night. We finished the session [and] wrote "Alone," which was a joy to write, and Jenny had the baby. It's a special one because it just brings us back to that time when we'd written this beautiful song, and then the next day there's a baby that's been born!"
Track 6. "Selfish Love"
"'Selfish Love' is a song that I wrote with probably the most amount of people I've ever written with, but didn't feel like too many cooks in the kitchen. It's a song that Ryan Tedder and Benny started on an acoustic. I was working with Benny Blanco in LA this year, and we were really struggling in the studio. There was nothing coming. It was one of them days. I was like, 'God I haven't got it anymore. I've become a mother and I just can't write a song.' It was just one of those days. That happens, but I think I was so much like, 'I need to work.' I was with incredible people and I think was putting loads of pressure onto myself.
Benny whipped out his phone and was like, 'Hey, me and Ryan started this thing a week ago. Do you wanna listen to it?' It was literally Ryan singing the chorus. I was like, 'I love it. It reminds me of Sade. It reminds of D'Angelo's 'Really Love.' Can we work on it?' We built this thing around this amazing chorus and I love it. Do you know Manu Chao? He's really amazing but it's got this Latin American thing about it. Having Cashmere Cat and Happy Perez on it created this amazing world of freshness. I wanted to do this completely over the top intro like 'Really Love.' We got strings. I got my producer from the first record, David Kumu, to do amazing Spanish guitar. I've got some of the best musicians on that song, and I'm really proud of it. It's really fun to perform live."
Track 7. "First Time"
"'First time' is the first track that I wrote this year and it was after having a conversation with Benny Blanco, where he listened to some of my stuff in December. For my other stuff that I've been writing, and I was really pushing on him. I was like, 'Is that gonna be on the record?' He was like, 'This doesn't sound like you,' and I was like, 'No, no, it's really good. He said, "No, I don't care", and 'Why aren't you doing what you used to do?' I think I thought that nobody really wanted to hear the kind of Devotion aspect of me. That's my first record. He was the person that reminded me that actually that was something that brought him in, and drew him into wanting to work with me. I just went back to the drawing board, and I made this decision that when I was going into my sessions in the New Year, that I wasn't gonna just try and appease people that I thought had had more success in the charts than me, therefore I must listen to what they're saying. I respect everything that people say, but I think I'm the artist, and I needed to remember who I was, and what I could bring to the table.
So, first session back, I went in with Starsmith and James Newman, who is John Newman the singer's brother, who's an amazing songwriter. We'd never worked together and he had these chords, and he had a beat, and it was really fast. We wrote the chorus, and we wrote the song, but to be honest, I thought that the beat sounded really naff. And the next day we came in, we listened back to it, and I was like, 'Can we just try it half time?' Because that's what I do, because I can't make upbeat tracks. We did, and it just made this sexy thing, this 80's thing. It really feels the closest to Devotion songs that I've got probably because I was in that headspace. I love this one. It's about me trying to get back to a place with a husband that isn't all about changing diapers and sick and vomit and having no sleep. This is about trying to get that romance back."
Track 8. "Hearts"
"'Hearts' is a song that I wrote when I was pregnant in Los Angeles with the wonderful Julia Michaels, Two Inch Punch, and Benny Blanco. I've worked with Julia before in New York and we got a song that I really liked but it didn't make the record. But I knew that we had this thing. We had this chemistry. I trusted her entirely and I love the words that she comes out with. We just kind of really riff off each other and we'd be able to write so freely, and sometimes that doesn't always happen. I'm so fond of her, and that was around the time when she was like, 'I'm never gonna be an artist, I don't wanna be an artist?' How things have changed, Julia?
She is a wonderful artist now, I'm so proud of her. I managed to get this one out of her before she became an artist. It's a song about a family member and a frustration, and I think what Julia is incredible at is bringing those raw emotions. She hit that note on the chorus, and it was like, "Okay. Let's go there for the chorus.'"
Track 9. "Slow Me Down"
"'Slow Me Down' is a song that really was an offering to my husband. It's a song that was inspired by something that my friend said to his husband at their wedding in his speech. Chris is a good friend to mine, and he said to Will, his husband, "You slow me down.' Chris is a music video director, his husband's a lawyer and when he said that, it totally made sense. He's going a thousand miles per hour, and Will makes him feel calm. I think that's exactly the same as my husband.
I had this title, and I kept on bringing in out in sessions, and some people are like, 'Hmmmmm.' Nobody really got it. I knew this had a song in it and so I just kept on plugging this song title as a starting point. I wrote this with Fred Ball, who did 'Love On The Brain' with Rhianna, and Preston, and Nina Nesbitt, who are amazing. They liked it, and they got it, and we wrote this really intimate song, and I love how intimate it is. It's really lots of Feist inspirations in there."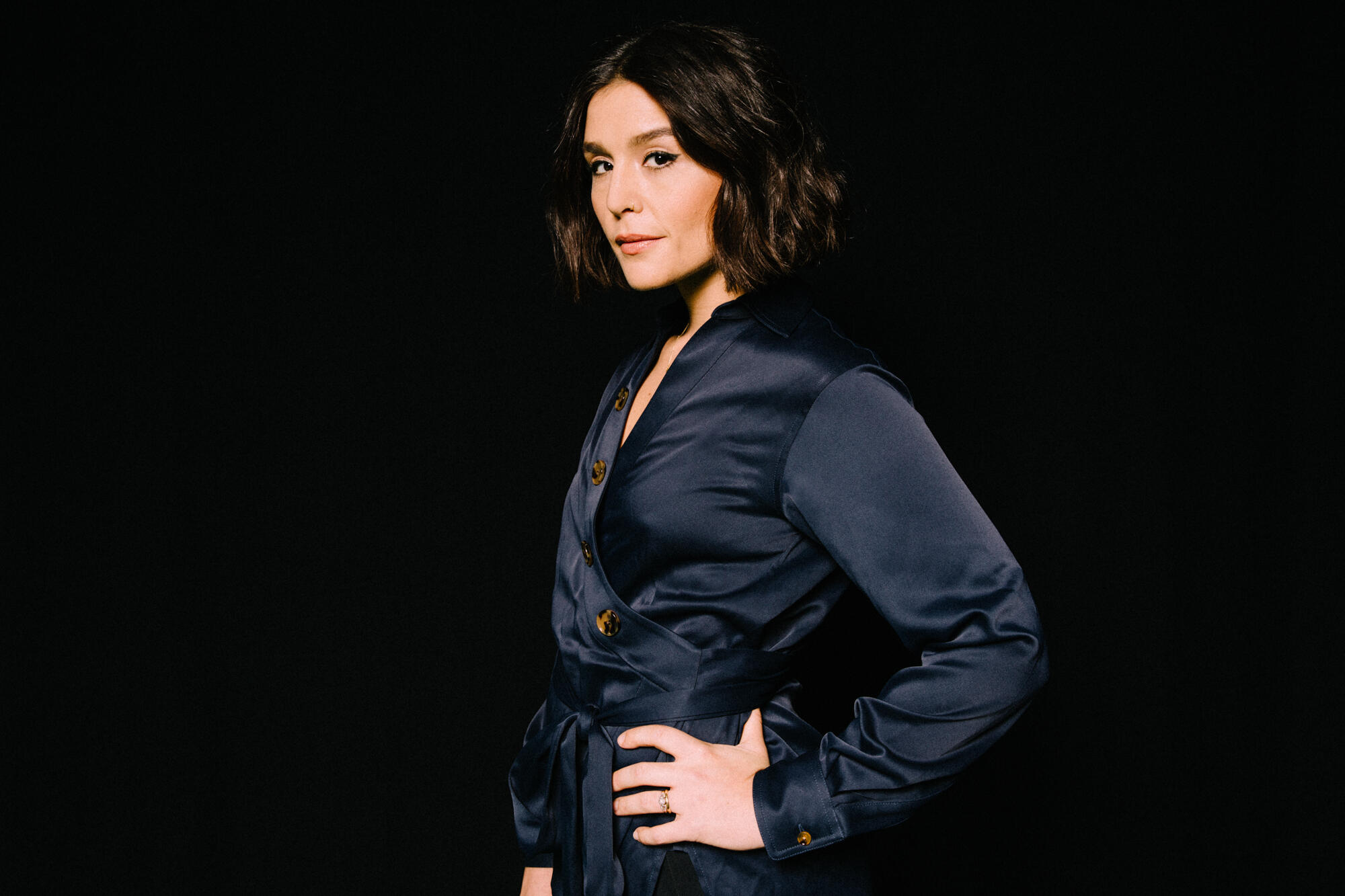 Track 10. "Finish What We Started"
"'Finish What We Started' is a song I wrote actually before I was pregnant when I wrote with James Scott, and Julian Bunetta, and John Moran. We were in Surrey, in the countryside in the UK, and we'd been there drunk the whole week because Julian and John like to party. They've done a lot of stuff with One Direction, John's done stuff with Maroon 5. They're amazing and I adore them, but I was so tired after this week, and it was the last song we did right at the end before my train was about to leave. It was one of those songs, again I was listening to a lot of Cockto Twins, and I found out that somebody that I had a crush on when I was much younger was getting married. That's what it's about. Ironically, my husband, it's his favorite, never told him about that, but it's supposed to have this mini euphoria in it, and I really really love it."
Track 11. "Last Of The True Believers" featuring Paul Buchanan
"I wrote after my first record and it was a song that I wrote this with this amazing guy called Paul Buchanan, who is from this cult band of the 80's called The Blue Nile. They're a Scottish band. I managed to get in the studio with him, and we wrote this song, and it was in demo form, and I loved it.
I started to play it when I was doing my American tour because I toured the Devotion record so much, and my last ever tour was in the States. It was a six-week tour. It was amazing, one of my favorite times, and I never do encores, because I think they're annoying, but I did do an encore and so I had to backtrack on what I'd said. I don't think we went off stage though, because I think that's naff. We started doing this, and it's nothing. I've never done that before. We had a demo. We didn't do it how the demo is and we kind of learned it, and I felt like I was in a real band. I didn't feel like I was dictated by the album track. It was just this idea, and people really liked it. Pitchfork put it up. It became this thing that was on the Internet, and people asked me, 'Are you gonna put it on your second record?' I didn't, and it didn't make sense to put it on the second record.
My sister reminded me of this song, because she adored it, so I got my friends [and] they're in a band called The Maccabees, who are really good friends of mine from school. They're massive fans of The Blue Nile. I asked Hugo if he'd like to produce it, and he did, and he brought it to life. He brought it back to life, and I'm really, really happy that it made it onto this record. It fits this record so much more than the second record."
Track 12. "Sam"
"Sam loves 'Sam,' the song. He loves it. I wrote it with Ed Sheeran, and Benny, and Francis and the Lights. It's about me waiting to be a mother, and not knowing what that's gonna be like, and reminiscing about my own childhood. I was worried people would think this song was really saccharine. Well, actually I wasn't worried. I thought that it was gonna be a Marmite. Do you know what Marmite is? Marmite's a salty spread that Brits eat on toast, and it's delicious. Sounds disgusting, but it's like yeasty extract. Some people love it, and their slogan is, 'You either love it or you hate it.' I love it, loads of people hate it. People say when people aren't gonna be sure, 'It's Marmite.'
I thought this song was gonna be like Marmite, and people were either gonna really like it or really be like, 'That is so sickly sweet.' But I kind of didn't care, because I was like, 'This song is about a time, documenting a time, that I am waiting to be a mum, my baby's nearly here, my husband's gonna hear it, and it will make total sense.' It was really supposed to be this quite small track that was an offering to my husband. What happened is this song has resonated in a way that I was really unsure if it would. I started playing it in my shows, and I was asking people to put their cameras away, because I was playing 'Say You Love Me' and then into 'Sam.' I just wanted people to listen. What happened was people really did listen because they didn't have a bloody phone like that, and I'm seeing the first time I sung it, people crying in the audience. It did something to them and it seemed to be doing something, and it's striking a chord with people, and I'm really happy it is. Because I'm really proud of this song, and I'm very lucky that I get to work with Ed Sheeran.
He really pushed me. There's a line in the chorus, which refers to my mum and dads relationship, which I avoided speaking to my father about because my parents split up. It happens to a lot of people. It's not very nice, but it happened and it wasn't a very nice breakup. He's a nice man, and he's a good grandfather, and he's not happy about the song. He gave me a text on Friday, and he was like, 'Been meaning to chat to you about that.' I didn't invite him to any of the London shows. I kind of avoided. I didn't tell him when the album was out. People have talked to him. I'm in trouble."
Track 13. "Love To Love"
"'Love To Love' is really catchy. It's got this hypnotic chorus. I wrote it with Danny, Shun, and Stint. I actually really need to learn that for the live show because it's good. It's Sam Smith's favorite. He text me. I was like, 'Babe, that's from Little Liars. What do you like on the record?' He was like, 'Love it, babe. Only playing that one.' I was like, 'Cool.' Maybe I should've put it on the record. I don't know. I'm in two minds. Maybe I should've put it on the record. I guess people still get to hear it."
Track 14. "Till The End"
"'Til The End' is a song that I wish I'd never given away to a movie. I didn't want to. I wanted to open my album with this song. People are in your ear being like, 'Ah you should do it.' I'm really happy it was on. I'm not so happy. It was a pleasure to be in the movie but, annoyingly, I felt like maybe it couldn't really open the record anymore. I still wanted it to live within, amongst this album, because it was a really important song to me, so that's why it's on the deluxe, but I really love this record."
Photo: Rachel Kaplan for iHeartRadio